Holden Caulfield , a teenager from New York City, describes events that took place in December 1949 from a mental asylum one year later.
Holden begins his story at Pencey Preparatory Academy, an exclusive private school in Agerstown, Pennsylvania , on the Saturday afternoon of the traditional football game with a rival school. Holden has been expelled from Pencey due to poor work and isn't to return after Christmas break, which begins the following Wednesday.
He plans to return home on that day so that he will not be present when his parents receive notice of his expulsion. On invitation, he goes to the home of his history teacher, Mr. Spencer. Spencer is a well-meaning but long-winded middle-aged man. Spencer greets him warmly and offers him advice, but embarrasses Holden by further criticizing Holden's work in his subject.
Holden returns to his dorm wearing the new red hunting cap he bought in New York. His dorm neighbor Ackley is one of the few students also missing the game. Ackley, unpopular among his peers, disturbs Holden with his impolite questioning and mannerisms. Holden, who feels sorry for Ackley, tolerates his presence.
Later, Holden Caulfield agrees to write an assignment for his roommate, Stradlater, who is leaving for a date. However, Holden is distressed to learn that Stradlater's date is an old friend, Jane Gallagher, on whom Holden had had a crush. When Stradlater returns hours later, he fails to appreciate the deeply personal composition Holden wrote for him about the baseball glove of Holden's late brother Allie, and refuses to reveal whether he slept with Jane. Enraged, Holden punches him, and Stradlater easily wins the ensuing fight. Fed up with Pencey Prep, Holden catches a train to New York City, where he intends to stay in a hotel until he returns home on Wednesday.
In a cab, Holden inquires with the driver about whether the ducks in the Central Park lagoon migrate during winter, a subject he brings up often, but the man barely responds. Holden checks into the dilapidated Edmont Hotel. He spends an evening dancing with three tourist women in the hotel lounge and enjoys dancing with one, though is disappointed that he is unable to hold a conversation with them.
Following an unpromising visit to Ernie's Nightclub in Greenwich Village, Holden agrees to have a prostitute named Sunny visit his room. His attitude toward the girl changes the minute she enters the room; she seems about the same age as he. Holden becomes uncomfortable with the situation, and when he tells her all he wants to do is talk, she becomes annoyed and leaves. Even though he still paid her the right amount for her time, she returns with her pimp Maurice and demands more money. Holden insults Maurice, who punches him in the stomach and leaves with Sunny.
The next morning, Holden, becoming increasingly depressed and in need of personal connection, calls Sally Hayes, a familiar date, and they agree to meet that afternoon to attend a play. Holden shops for a special record, "Little Shirley Beans", for his 10-year-old sister Phoebe.
He spots a small boy singing "If a body catch a body coming through the rye ", which lifts his mood. After the play, Holden and Sally go ice skating at Rockefeller Center. Holden impulsively invites Sally to run away with him that night to live in the wilderness, but she is uninterested in his hastily-generated plan and declines. The conversation turns sour, and the two part ways.
Holden gets drunk at a bar, first calling an icy Sally, then walking to Central Park to investigate the ducks, breaking Phoebe's record on the way. Nostalgically recalling the unchanging dioramas in the Museum of Natural History that he enjoyed visiting as a child, Holden heads home to see Phoebe, exhausted and out of money.
He sneaks into his parents' apartment while they are out, and wakes up Phoebe - the only person with whom he seems to be able to communicate his true feelings. Holden shares a selfless fantasy he has been thinking about (based on a mishearing of Robert Burns's Comin' Through the Rye): he pictures himself as the sole guardian of thousands of children playing in a huge rye field on the edge of a cliff.
His job is to catch the children if, in their abandon, they come close to falling off the brink; to be, in effect, the "catcher in the rye". Because of this misinterpretation, Holden believes that to be the "catcher in the rye" means to save children from losing their innocence.
When his parents come home, Holden slips out and visits his former and much-admired English teacher, Mr. Antolini, who offers advice on life along with a place to sleep for the night. Holden is upset when he wakes up in the night to find Mr. Antolini patting his head in a way that he regards as "flitty" (homosexual). Confused and uncertain, he leaves as dawn is breaking and spends most of Monday morning wandering the city.
Losing hope of finding belonging or companionship in the city, Holden impulsively decides that he will head out West and live as a recluse. When he explains this plan to Phoebe on Monday at lunchtime, she wants to go with him, even though she was looking forward to acting in a play that Friday.
Holden refuses to let her come with him, which upsets Phoebe, so Holden decides not to leave after all. He tries to cheer her up by taking her to the Central Park Zoo, and as he watches her ride the zoo's carousel, he is filled with happiness and joy at the sight of Phoebe riding in the rain.
In a short epilogue, Holden briefly alludes to "getting sick" and living in an institution in California near his brother D.B., and mentions he will be attending another school in September. Holden says that he doesn't want to tell anything more because, surprisingly, he has found himself missing his former classmates. He warns the reader that telling others about their own experiences will lead them to miss the people who shared them.
Holden's story begins on the Saturday following the end of classes at the Pencey prep school in Agerstown, Pennsylvania. Pencey is Holden's fourth school; he has already failed out of three others. At Pencey, he has failed four out of five of his classes and has received notice that he is being expelled, but he is not scheduled to return home to Manhattan until Wednesday. He visits his elderly history teacher, Spencer, to say goodbye, but when Spencer tries to reprimand him for his poor academic performance, Holden becomes annoyed.
Back in the dormitory, Holden is further irritated by his unhygienic neighbor, Ackley, and by his own roommate, Stradlater. Stradlater spends the evening on a date with Jane Gallagher, a girl whom Holden used to date and whom he still admires. During the course of the evening, Holden grows increasingly nervous about Stradlater's taking Jane out, and when Stradlater returns, Holden questions him insistently about whether he tried to have sex with her. Stradlater teases Holden, who flies into a rage and attacks Stradlater. Stradlater pins Holden down and bloodies his nose. Holden decides that he's had enough of Pencey and will go to Manhattan three days early, stay in a hotel, and not tell his parents that he is back.
On the train to New York, Holden meets the mother of one of his fellow Pencey students. Though he thinks this student is a complete "bastard," he tells the woman made-up stories about how shy her son is and how well respected he is at school. When he arrives at Penn Station, he goes into a phone booth and considers calling several people, but for various reasons he decides against it. He gets in a cab and asks the cab driver where the ducks in Central Park go when the lagoon freezes, but his question annoys the driver. Holden has the cab driver take him to the Edmont Hotel, where he checks himself in.
From his room at the Edmont, Holden can see into the rooms of some of the guests in the opposite wing. He observes a man putting on silk stockings, high heels, a bra, a corset, and an evening gown. He also sees a man and a woman in another room taking turns spitting mouthfuls of their drinks into each other's faces and laughing hysterically. He interprets the couple's behavior as a form of sexual play and is both upset and aroused by it. After smoking a couple of cigarettes, he calls Faith Cavendish, a woman he has never met but whose number he got from an acquaintance at Princeton. Holden thinks he remembers hearing that she used to be a stripper, and he believes he can persuade her to have sex with him. He calls her, and though she is at first annoyed to be called at such a late hour by a complete stranger, she eventually suggests that they meet the next day. Holden doesn't want to wait that long and winds up hanging up without arranging a meeting.
Holden goes downstairs to the Lavender Room and sits at a table, but the waiter realizes he's a minor and refuses to serve him. He flirts with three women in their thirties, who seem like they're from out of town and are mostly interested in catching a glimpse of a celebrity. Nevertheless, Holden dances with them and feels that he is "half in love" with the blonde one after seeing how well she dances. After making some wisecracks about his age, they leave, letting him pay their entire tab.
Dblo Associates are a diverse, collective team of innovative residential architects London that inspire people through creative architecture.
Their high performance architectural services London has grown to become a leading architectural firm in London with a reputation for designing unique home spaces that create joy through simplicity and the unexpected. Their clients include residential developers and individuals who value high quality, imaginative architecture.
Whether it's a new build, remodel or home refurbishment, they seek out solutions that are conducive to the surrounding environment, whilst also embracing the excitement and innovation of the new. It's our company ethos to make the most efficient use of resources, whether they be our clients, ours or the worlds. We also believe that it's essential to make the experience of each project as enjoyable and stress-free as possible.
dblo Associates residential extensions London were recently commissioned to convert a single apartment in to two apartments by extending in to the loft. The success of this project relied not only on canny space planning, but through the use of bespoke joinery to provide ample storage to help maintain the clean lines. Various light sources have been built in at construction stage to give both ambient and direct lighting.
Everything you need to run your business. All in one place. Sage cloud hosting gives you the stability of the desktop with the flexibility of the cloud.
Hosted Sage in the Cloud provides customers with an alternative deployment solution to the in-house model.
Hosting is designed through a consultative approach to ensure your data and applications are delivered quickly, securely and simply, to your users world-wide. Hosted Sage and other Line of Business applications on Knowall's UK Enterprise Cloud Platform, ensures your data and applications are available 24x7 to your users, no matter the location or device.
Knowall IT has been hosting Sage 50, 200, Payroll & ACT since 2005 on its data centre platform. Enabling UK businesses to access Sage products from home, offices or abroad, on PCs, Macs, Tablets or Smart Phones.
Guaranteed Performance
The solution runs only on high performance Enterprise server technology with a deep pool of resources to guarantee fast access to the software
SSD Caching
Your data will only be stored on extremely fast disks with SSD Caching as standard to ensure the fastest possible access to your data at all times
Enhanced Security
Our UK based, Tier 3, ISO27001 Certified data centres ensure maximum security
Always Available
Built in multi-site redundancy to ensure the applications are available 100% of the time
Simple to Scale
Pay per user per month - simple to grow the solution without worrying about server capacity and software licensing
Anytime Anywhere Access
Flexible access on any device (PC, Mac, tablet, smartphone) from any location at anytime.
IBS market leaders in Industrial Blower Services & Solutions ensure they offer their customers the very best in industrial Blower Equipment and Services and continually adding to their product range.
IBS are proud to be the European agents for a new product Hammond Biogas Compressor (now Blackmer) which adds to the already extensive product range they offer. The new biogas compressors are for use in the treatment of sewage sludge.
IBS can also supply machines from all of the leading manufacturers including Northey, Utile, Mapro, Wittig and Ro-Flo.
IBS also understand the implications for a client should any down time occur and they make provisions for this by offering vacuum pump hire solutions.
IBS have liquid ring, rotary vane, side channel, claw and roots type vacuum pumps available to minimise our customers down time in the event of:
Emergency breakdown
Planned repair/maintenance
Short-term demand
Testing of new systems
Accidental damage
Range Features:
Volume flow rates between 4 and 1500 m3/hour FAD
Units based in UK locations for fast delivery
Typical areas of application include:
Sewage treatment
Production - Chemical, pharmaceutical, plastics, food, pulp, paper, electronics, and textile
Power plants
Packaging
Conveying
Printing
Medical
Meet Michael, Chris, Janet, Beverley, Robert and Andrew the seventh generation of Lodge family funeral directors.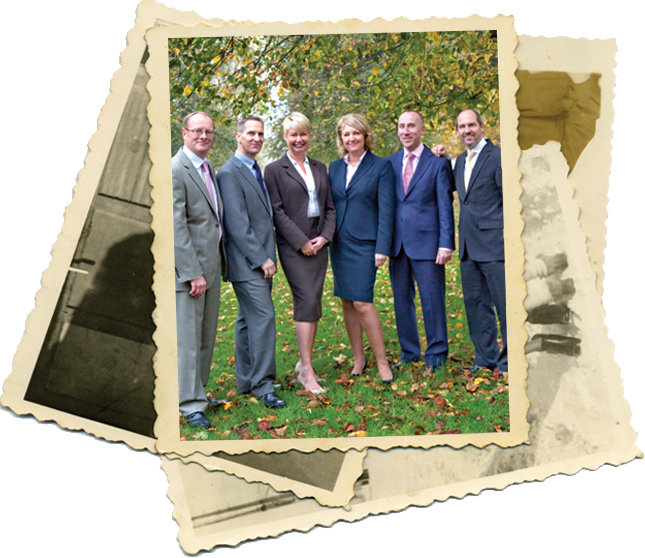 WHY CHOOSE LODGE BROTHERS?
Lodge Brothers funeral directors Cobham understand that organising a funeral at a time of grief of a loved one can be extremely daunting and often overwhelming especially if you find yourselves having to make difficult decisions. They provide a downloadable Funeral Guide to give you an outline of actions required by family, friends, executors and others when arranging a funeral. If you prefer a home visit Lodge Brothers can arrange a Funeral Arranger to visit you at home to discuss the arrangements.
Lodge Brothers have been serving the community for over 230 years and will guide you through every step of the journey. They take great pride in being able to offer a 24 hour service, 365 days a year, providing advice on what needs to be done and by whom.
Lodge Brothers funeral directors Ashford understand that everyone is individual and will help you create a meaning and memorable way to remember and celebrate the life of a loved one.
Lodge Brothers ensure all funeral services and memorials are conducted with great dignity and in a caring and efficient manner. They pride themselves in having empathetic and professional staff to assist with all aspects of funeral arranging.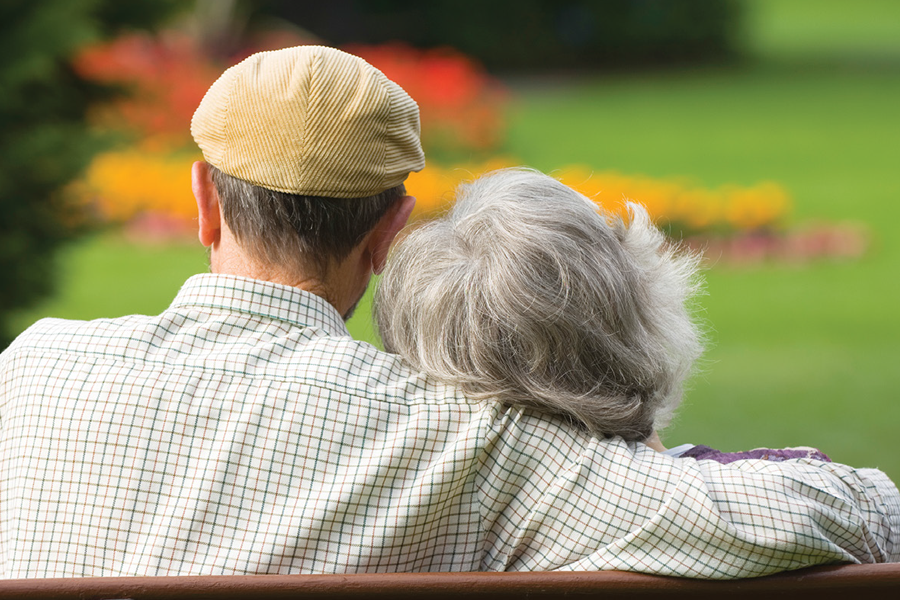 TYPES OF FUNERALS LODGE BROTHERS OFFER
Lodge Brothers offer services to all communities, regardless of race or religious beliefs. A Humanist or Civil Celebrant can be arranged to officiate a non-religious ceremony, and a committal without any form of remembrance can also be arranged.
Most funerals are either burials or cremations and are based on what is termed as a 'traditional' funeral, but there are many variations. The staff­ will be happy to discuss your personal requirements, off­ering advice on tailoring the funeral accordingly:
Burial
Cremation
Woodland burials
Religious
Non-religious
Basic
Latest News from Marquee Hire
"We were absolutely thrilled to be part of the photo shoot for the Radio Times and Propped Up as they prepared the 'Souvenir Edition – Farewell Bake Off'.
Not only did our marquee make the front cover of the well-known magazine, but also in the Bake Off feature inside. As another series of The Great British Bake Off draws to a close, it also marks the end of an era for the series on the BBC, as it will move over to Channel 4".
Do you have a promotion, annual conference or a corporate marquee wedding and need the perfect venue option?
Something that allows flexibility to cater for any size. Marquee Hire have a team highly experienced in corporate events especially wedding marquee hire and  who are available to aid you in every stage of organising and staging your corporate event, whether large or smaller more intimate events. Marquee Hire Surrey client list extends from start-ups and SME's through to large multi nationals.
Marquee Hire's dedicated Corporate Marquee Hire team are experienced in dealing with corporate clients on a variety of events and functions.
Internal employee communication events and functions
Promotion, retirement and recruitment fairs and parties.
Annual conferences and stakeholder, shareholder events.
Strategic planning, training and management courses.
Product and service launches
Festive and summer engagement functions.
Graduations and school functions.
Health and safety policy, risk assessments, method statements, fire safety certificates, insurance certificates are all available on request. In addition to this, they are also accredited members of the marquee hire industry body, MUTA.
Marquee Hire's commitment to the environment is prevalent in all their operations, both onsite and in the office, from the use of Biodiesel in fleet of vehicles, to using paperless processes where possible in the office. The environmental policy is available on request.
Needing to find a date for the first time can be daunting and somewhat nerve wracking, this doesn't have to be the case if you find the right agency to help your quest. Have you heard of Dukes of Daisy? They are a well-known and established companion service who are there to help with hundreds of friendly, attentive and discrete companions to choose from.
Dukes of Dairy companion service is safe as the escorts are carefully are carefully selected to ensure they have the right social qualities to make you feel relaxed and comfortable and they offer the perfect solution to renting a date. They have hundreds of female date to choose from; finding one is easy as you look through the image gallery and find a person who you like, click on their attributes and you will soon discover whether this is the person you would like as a date. Perhaps meet them first and get to know each other so when the function arrives you will feel natural and comfortable having the date with you.
With Dukes of Daisy you will have instant peace of mind knowing that you are hiring a companion and therefore no hidden agendas or unrealistic expectations. Your rent a friend will know how to conduct themselves as a non-sexual escort.
If you ever in the position of thinking 'I need a date' look no further than Dukes of Daisy for an uncomplicated solution to dating.
Yoni Massage London by Tantric Journey 
What is a Yoni and what is a Yoni Massage?
The Yoni is the Sanskrit term for the vagina and the female reproductive system. Tantra celebrates a woman's Yoni in order to highlight the significance of it in the cycle of life. The foundation of life was believed to begin in a woman's Yoni that was a chain reaction to all life energy in the universal system. An imbalance in the woman's Yoni was thought to reap many ill effects in her life as well as the interconnected energetic system around her.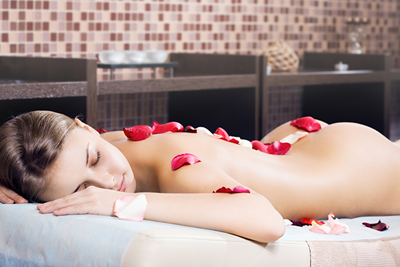 Therefore the ancient practice of Tantra and Toa engineered a massage (bodywork) to bring about an energetic balance in the woman's Yoni.  Sexual energy is the basal energy for life energy to flow through – birth being the initiation of life itself. Therefore this massage was performed on women to release their negative energy in the form of Amrita. Amrita is the Sanskrit term for Female Ejaculation. The female ejaculate contains negative emotions of a woman in the form of emotions. This is only further validated by the recent research done by Dr. Emoto Masaru called The Messages in Water.
Having understood the immense benefit of a Yoni massage; Mal Weeraratne proprietor and founder of Tantric Journey School of Healing and Awakening started Yoni massage classes London to educate the public. Tantric Journey aims to create vast awareness about the vital necessity of Emotional Detox through Bodywork (Yoni massages) to make the public understand how important is it to remove and release negative energy from the body.
The current day and age brings about a lot of disconnection within oneself due to the lifestyle, perception and psychological exposure. Processed inorganic food; busy work schedules; broken homes; stressful environments; constant break outs of violence; media exposure; lack of lifestyle knowledge; drug abuse; sexual abuse; physical abuse; emotional abuse; psychological abuse; detachment from family and a demanding lifestyle contribute to this disconnection and emotional abyss that manifest as physical experiences and path in one's life.
Therefore the retain the 'zen' within, despite the criticism of practicing a 'medieval' treatment of vaginal massage London; Tantric Journey continues to provide its care and love in other parts of the world too.
Tantric Journey Yoni massage classes in London have become popular through word of mouth and experiences that annual workshops are held in Tao Garden in Thailand. The workshop receives participants from various countries for a week filled of positive energy and negative emotional release. The workshop is called Emotional Detox through Bodywork that is ideal for men, women and couples.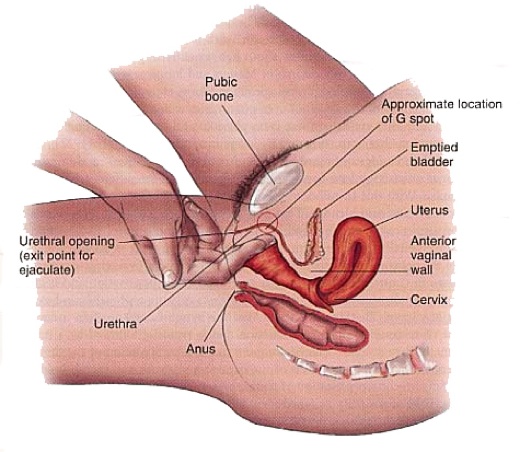 The Yoni massage in London by Tantric Journey concentrates on the vagina and hence why it is called the vaginal massage in London by Tantric Journey, as it focuses on the female prostrate which is also called the G Spot.  The female prostrate was disregarded until recent research that showed all women do have prostrates that produce female ejaculate and this prostrate is the G – Spot.
Therefore this is how the Yoni massage is applicable for a male too as it focuses on the prostrate to release negative emotions.
A yoni massage maintains the energetic balance of the body that allows to produce positive thoughts, positive emotions and positive life decisions by shedding the negativity in the body. The body's valence is changed from negative to positive improving overall health (emotional, physical and psychological = mind, body and spirit)
Healing with Mal Weeraratne 
Mal Weeraratne is an alternative healer who masters in the art of Emotional Detox through Bodywork. He is the Founder of Tantric Journey - School of Healing and Awakening and he is the British pioneer of Emotional Detox through Tantra & Tao Bodywork.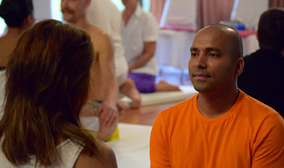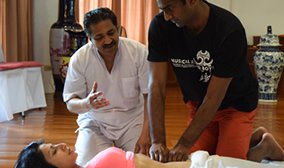 Mal Weeraratne has just released his first book Emotional Detox through Bodywork which was released in May 2016. The book talks about his expertise as a Bodywork healer for almost two decades, his techniques and perspective on emotional healing.
With the rise of researches on emotions and physical health Mal's work is revolutionary as it has been able to bring about healing to over 3000 women. Despite its unconventional methodology that is often criticized there is ample information and data to validate and solidify the healing model created by Mal Weeraratne.
Mal's work has gained quite a momentum that it has expanded it's teaching to Thailand in unison with the Tao Grandmaster Mantak Chia. Mal takes Tantric Journey on an annual Emotional Detox retreat to Tao Gardens in Chiang Mai.
Mal Weeraratne is a born Buddhist from the island of Sri Lanka and having had a Buddhist upbringing enjoys the Tao Garden environment to practice his sensitive and soul soothing workshop. He believes nature plays a vital role in healing and greenery is quite capable of absorbing the negative energy that a client is trying to release.
Emotional Detox through Bodywork is Mal Weeraratne hard work and years of study for the sole intention of healing the lives of people who are in dire need of healing.
Emotional Detox through Bodywork is a well sought after alternative emotional release therapy by men, women and couples. Men like to learn the art of Emotional Detox through Bodywork to help their partner, women like to learn Emotional Detox through Bodywork  heal themselves of trauma or cleanse themselves of negativity. And lastly couples opt to adapt Emotional Detox through Bodywork into their relationship to develop intimacy, trust and love.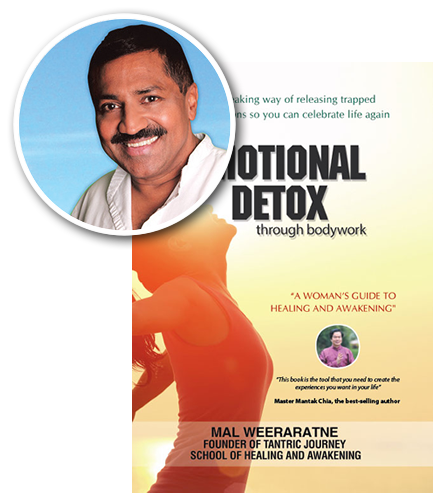 Mal Weeraratne has encountered a lot of negativity in his path to healing as the treatment model is often referred to as 'unconventional' as the knowledge of emotional healing is still growing. Through the years all physical ailments has always been traced back to a lack in physical or biological malfunction that the idea of emotional dysfunction causing physical discomfort is a brand new concept in healing. But the reality of healing portrays the fact the mind is a major factor in healing; if the mind that controls the emotions is calibrated to a healing frequency the body heals automatically.
Having encompassed abundant knowledge on the reality of healing Mal Weeraratne studied in depth about emotions, the body's energy systems and ancient techniques that mastered emotional healing.
Despite the negativity having seen the realm of happiness his clients enter after his treatment, Mal decided to start his school of Healing and Awakening called Tantric Journey to make the public more aware of emotional healing and to teach his techniques to others who wish to heal.
The Showmans Show 2016 review
Thank you to everyone who visited the DIY Marquee stand at the show, it was a fun couple of days chatting to customers new and old.
Our new Commercial Demi Marquee for sale seemed to prove very popular whilst feedback from our long-time customers has given us plenty of food for thought regarding new product ideas for the future.
There's always lots of have-a-go activities at the show and this year there was a really good one – Clayzer (laser clay shooting). We can highly recommend it, especially so as all 3 of us ended up on the leader board. If you think that's competitive you should see it when we take all the warehouse lads go karting at Christmas!
3x4m Commercial Demi DIY Marquees
Price: £414.00
Our 3x4m Commercial Demi DIY Marquees are ideal for covering entrances to buildings or mobile toilet units. Our Commercial Demi range is far superior to the Classic Range with thicker 500gsm PVC The entrance height is 2m with a height of 2.6m on the tallest side. The marquee is modular meaning you can extend or reduce its size in 2m sections to suit your needs.
An excellent 4-season marquee (can be used year round though additional precautions should be taken in snow and extreme conditions) ideal for sustained use in the domestic market or marquee hire industry. We recommend the use of tie down kits unless you have your own method for anchoring the marquee down. As with all DIY Marquees should the unforeseen happen any replacement part is available to purchase separately and our experienced customer service staff are always available for any advice you may require.
This marquee is made up of one piece, not by connecting multiple marquees.
Our 3x4m Commercial Demi DIY Marquees feature:
500gsm Rip-stop Duracoretex PVC Roof cover
500gsm Rip-stop Duracoretex PVC Side Panels
Unbranded
Flame retardant to BS5438 & BS7837 for safety
High frequency welded PVC joins for complete waterproofing
Strong up to 38mm galvanised steel framework
Roof braces at either end for added strength
'simplex' design (only 2 different length poles used throughout the marquee) for ease of erection
Groundbars included
3m wide wall panels with zipped entrances at either end
Individual window panels on both sides
Wind-stop velcro sealed joins for all side panels
12 month warranty and full spares back up service for peace of mind
Can be extended for future expansion